Day 6: Sensory Lifestyle Challenge
DAY 6 CHALLENGE: OBSTACLE COURSE
You have probably noticed by now that the Sensory Lifestyle Challenge provides activity ideas that support the 'body senses'. These include the TACTILE SENSE, VESTIBULAR SENSE and the PROPRIOCEPTIVE SENSE.
These senses are crucial to our development. Without proper functioning of these senses the achievement of motor milestones is often delayed.  Like I mentioned in my previous emails they help your child develop skills required to play, learn new motor skills and strengthen both gross motor and fine motor skills.
Today's activity will focus on all three Body Senses. These senses will be stimulated through creating and then completing a fun and motivating obstacle course.
Targeted Senses
Skills Developed

Vestibular sense

: As their head changes position through movement

Proprioceptive sense: As they engage in heavy work of pushing, pulling, jumping, crawling etc

Tactile sense: As they explore the different textures of the equipment that is used throughout the obstacle course

Core strengthening, upper body strengthening, gross motor skills, balance, eye hand coordination and

motor planning
Equipment
Things that can be used:
Pillows: to make an unstable surface to walk or jump on
Blankets: to make an unstable surface to walk or jump on
Boxes: to step in or over, or be pushed in (like a trolley) or push someone else in it or to throw something in it
Bubble wrap: to step on or jump on
Tape: to create a balance beam on the floor
Laundry basket: to step in or over, or be pushed in or push someone else in it or to throw something in it
Blocks: to step over or to knock them over
Tunnels: to crawl through
Hula hoops: jump in and out
Body Movements
To get the most out of the obstacle course we want to get the body and the head moving.
Move your body through:
Creeping

Crawling

Climbing

Stepping over

Walking backwards

Hoping

Jumping

Animal walks (bear walk, crab walk, frog jumps, snake slither)

Wheelbarrow walking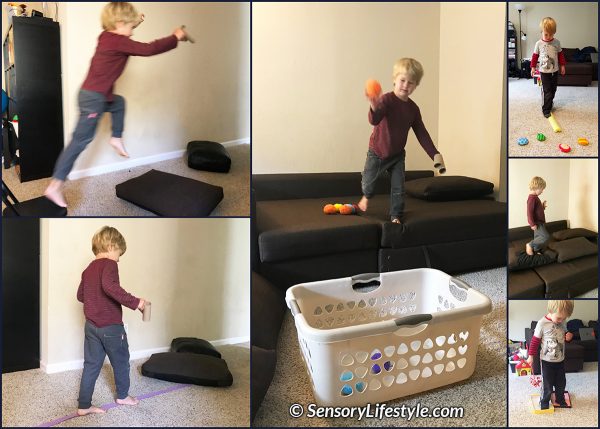 Occupational Therapy Tips
Fantasy and imagination will keep your child interested and motivated to try things that may be challenging.
Find out what your child is interested in and use it to engage them into play.
Randomly placed cushions on the floor can be rocks that your child needs to hop on to ensure their safely from the flowing lava beneath them.  
They can go on a rescue mission of their favorite toy or  practice some tricks for the circus.
Anything goes as long as you get them moving.
Look for me in your inbox tomorrow!
~Urszula
Until then…happy playing!
Disclaimer: The activities in this email series are intended for sensory play. They are not a replacement for treatment of children with Sensory Processing Disorder, are not medical advice and should not be used in place of the care of a medical doctor or other qualified healthcare professional. These activities should be facilitated and supervised by an adult. All activities are to be performed at your own risk and in no event shall Sensory Lifestyle be liable for any damages.