Month 16: Top 10 Sensory Activities for your 16 month toddler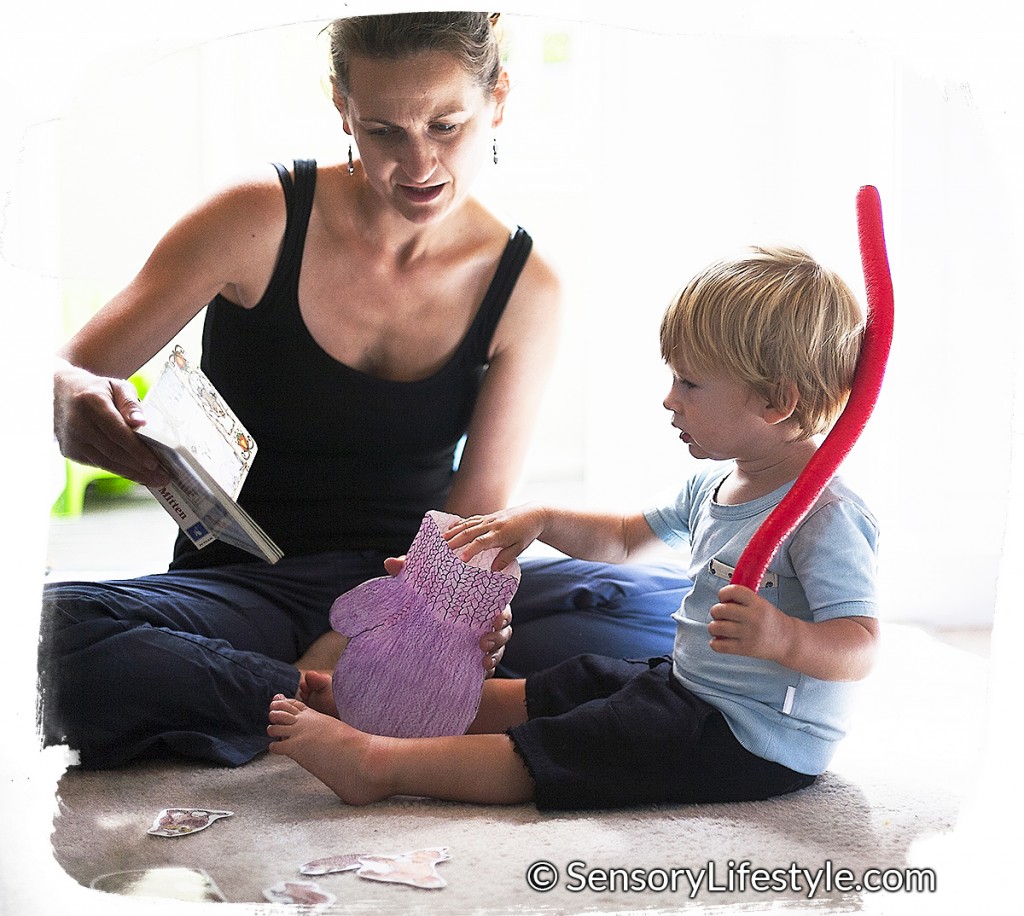 As an Occupational Therapist and a Mom I have put together top activities for your 16 month toddler. They will focus on strengthening your toddler's cognitive (mind) and motor (movement) skills.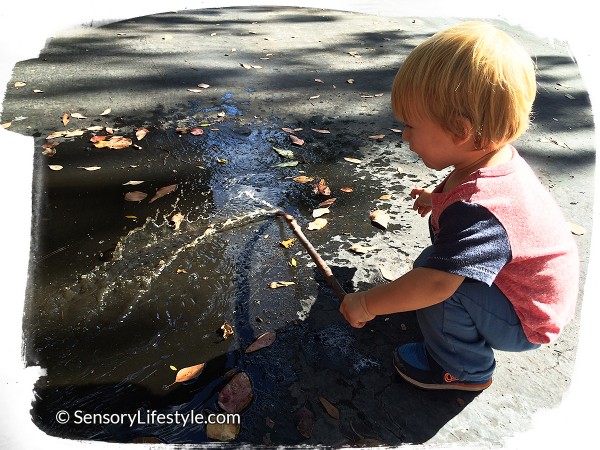 Amazing growth can happen when you step back. Your child can expand their play as they experiment and try out new ideas.
Activities for your 16 month toddler
Below are my top 10 sensory activities for your 16th month old toddler. The following activities will give them more opportunity to continue those experiments and develop new skills.
As always these sensory activities have been tried and tested.
1. Discovery time
The first activity listed is different as there is nothing that you have to do. Really! Step back and let your toddler free play. Just as Josh did in the above story. By letting children entertain themselves you allow them to discover and create. As they play, they learn to problem solve and motor plan.
I remember watching my son, Josh picking up a balloon that was tied to a string. It was originally suspended from a ceiling but after frequent tagging it fell off.
When he picked it up I almost got up and wanted to hang it back up. I did stop myself and stepped back. It was amazing to watch him discover what he can do with it. Josh carried it around the house and stop at different tables and chairs to see if he can hang it up. He would then pull it along, kick it, kiss it, squish it and make sounds by gliding his hand on it. He also climbed on furniture and containers. Josh would stand on them and swing the balloon from side to side. He would place it into large boxes and so on and on. What fun! I was so happy I didn't limit his play and imagination.
2. Mommy's little helper
A great activity for your 16 month old is to grow your child's skills by encouraging independence. Give them opportunities to practice age appropriate skills.
By now you've noticed how much your toddler loves to imitate you. See if you can expand on those skills. Maybe after your child finishes their meal you can give them a towel to wipe down their tray. Remember not to expect perfection! You can set up their environment so they can throw their diapers in the trash. Keep their socks accessible so they can bring them to you when needed. What about placing a plastic box near the front door with their shoes in it. Then teach them where to get their shoes from and where to put them away. You will love seeing that small face light up with pride when they do something on their own.
3. Puppet play
Puppets are so much fun. Here are some ways of how you can incorporate them into playtime with your toddler. You can play hide and seek. They can try to feed the puppet, give it kisses or hugs. The puppet can also be a great buddy to teach them where their different body parts are. The puppet can ask where their nose or ears are. They can also find those parts on the puppet. That is if that particular puppet has those body parts! Be creative, have fun and use a funny voice to grab their attention and make them laugh!
4. Read & Play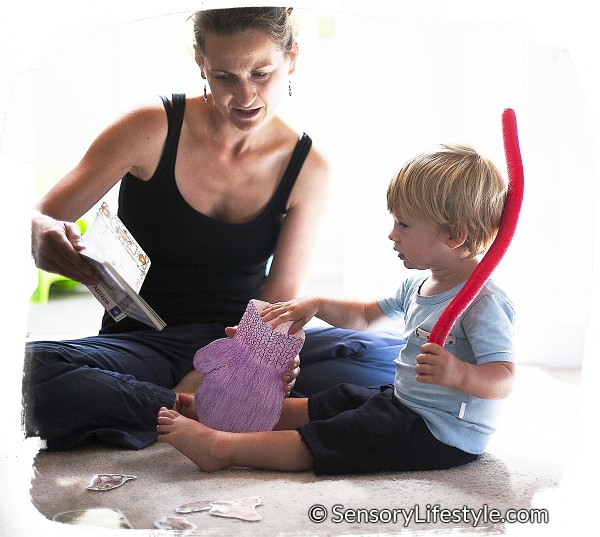 Reading to your child has many benefits. Some of which include:
Promotes listening skills
Increases language development
Assists in the development of attention span and memory
Promotes bonding between you and your toddler
Instills the love of reading
A fun way to expand on the reading activity is to make it more interactive. Make your toddler a more active participant. Some ways can include:
– If reading books about animals you can practice sounding the animal noises.
– Read books that involve actions that can be copied. A great one in our household is 'From Head to Toe Board Book' by Eric Carle.
– You can even practice fine motor and eye hand coordination skills while reading books. Reading 'The Mitten' is an excellent example. This is a great book that can keep your toddler engaged. It is about various animals that want to hide out in the mitten. As you read, your toddler can place individual animals in the mitten. You can download individual animals and the mitten from here. http://www.janbrett.com/put_the_animals_in_the_mitten.htm
5. Light dance
| Skills developed | Targeted senses |
| --- | --- |
| Visual tracking skills (When eyes move from left to right, or focusing your vision on an object as it moves across a visual field. Skills needed later on for reading and writing), eye hand coordination, gross motor skills | Visual, tactile, vestibular & proprioceptive |
How to Play
All you need is a flashlight and a dark room. Your toddler is still too young to sit and watch the light jump across the room. Let them stand up and chase it around as you make it dance on the walls. Let the light move slowly, and then fast. Jump up or down. Maybe it can hop up to the ceiling. Have fun and follow your child's lead.
6. Rock n roll time
Lets take out those instruments and make some noise. Playing instruments can be so much fun. Your little ones I'm sure have enjoyed shaking and banging many instruments already. Let's expand on this jam. Encourage your toddler to copy you with what you do. Maybe pick up the shaker and shake it up high above your head or down low near your toes. Place it on your hips or on your knees. Play the music loud or quiet, fast or slow. There are many variations. Your toddler might even come up with a few!
7. Clean Mess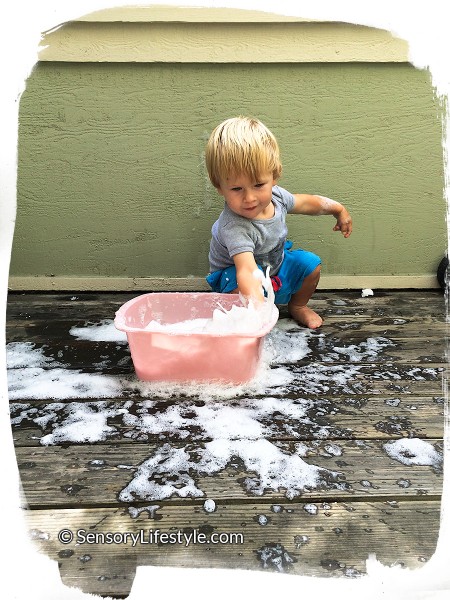 This activity is really fun! That is if your child is into playing with slimy textures.
| Skills developed | Targeted Senses |
| --- | --- |
| Fine motor skills & eye hand coordination | Visual & tactile |
How to Play
Equipment: Large container of water, dish soap and toilet paper.
First, place some dish soap (just enough to make some bubbles) into your water. Then, your toddler can tear pieces of the toilet paper and throw them into the water. As your child mixes all the ingredients together they will create a soft and slimy texture. Many children love to explore it with their hands. You can also encourage putting their feet in to see how that feels. Make sure you support your little one climbing in and out so they don't slip.
8. Superman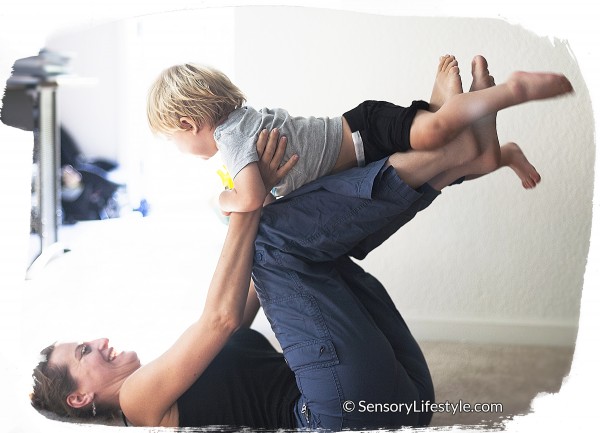 | Skills developed | Targeted Senses |
| --- | --- |
| Core strength | Visual, tactile & vestibular |
How to Play
Lay down on the floor while bending your hips and knees. Bring your child up and lay them on your shins. Make sure you support them around their chest and under their arms. Once in position it's time to go up, up and away!! You can pretend your child is a bird or a plane. Make sounds and move them in various positions and bounce them up and down. Don't be shy and sing some tunes while your toddler is flying to make it even more exciting.
9. Water fun
This is a perfect activity for your 16 month toddler on those warm summer days.
| Skills developed | Targeted senses |
| --- | --- |
| Strengthening of upper body, strengthening small hand muscles, eye hand coordination | Visual, auditory, tactile & proprioceptive |
How to Play
Equipment: water (poured into either a large container, baby swimming pool or a bathtub), cups, spoons, food coloring, pots, strainer etc.
For some variety and fun you can add some food coloring to the water. Then let your toddler explore. They can fill and empty the water in and out of the different containers. Watch as the water flows when they pour it into the strainer. Don't be surprised if your toddler decides they want to pour the water onto themselves. Many enjoy pouring it onto their chest or their face.
10. Container Fun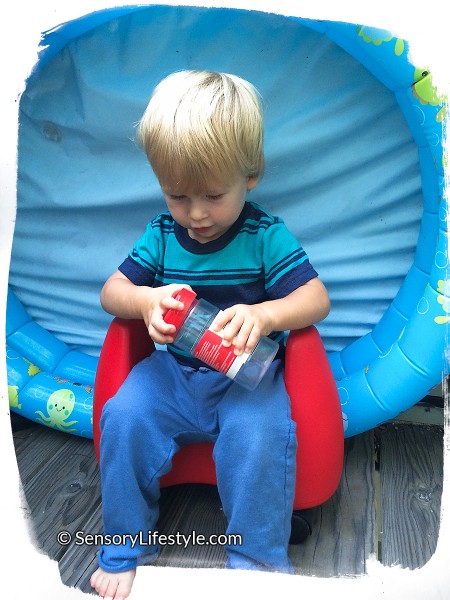 | Skills developed | Targeted senses |
| --- | --- |
| Strengthening of their hands, manipulation skills and eye hand coordination. | Visual; tactile and proprioceptive. |
How to Play
Provide your toddler with a variety of different containers. They can include Tupperware containers, water bottles of various sizes or empty spice containers. Anything that can be opened and closed works great. Variety is also important to generalize their skills. They will not be perfect yet but let them explore opening and closing lids. The lids can be turned to open and close. They may need to be lifted up to open and pressed down to close. Whatever the strategy your toddler is learning many great skills. You can also motivate them by 'hiding' different toys or objects in them. For an extra challenge they can try and put the objects back into the containers.
I often use the following items: cut up pipe cleaners, holiday bead necklaces cut into smaller pieces, pom poms and cocktail stirrers. A dollar store is useful for this activity.
Summary
There you have it. My top 10 Sensory Activities for your 16 month old toddler. These are bound to spark up other ideas. Let me know what activities you have tried in the comments section below.
Remember: Each baby develops at their own pace. If your child is not ready or not interested in these month's activities, just try them again in a few weeks.
~ Urszula
Disclaimer: The activities in this blog are intended for sensory play. They are not a replacement for treatment of children with Sensory Processing Disorder, are not medical advice and should not be used in place of the care of a medical doctor or other qualified healthcare professional. These activities should be facilitated and supervised by an adult. All activities are to be performed at your own risk and in no event shall Sensory Lifestyle be liable for any damages.