Month 23: Top 10 Sensory Activities for your 23 month toddler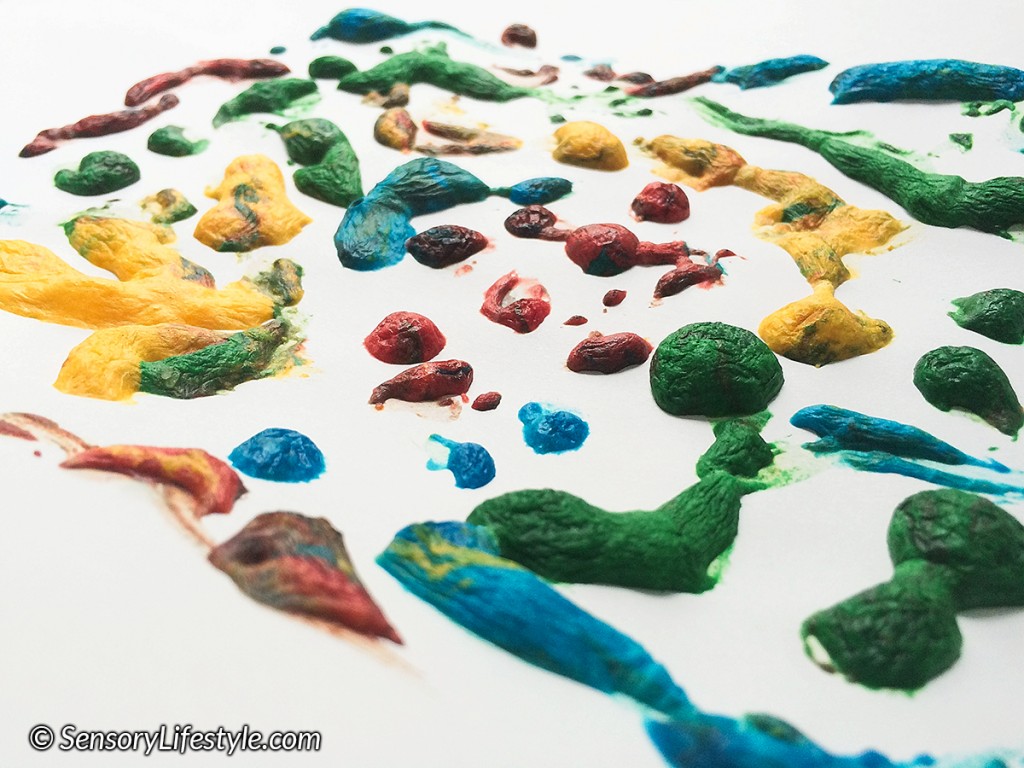 As an Occupational Therapist and a Mom I have put together top activities for your 23 month old toddler. These activities support your toddler's cognitive (mind) and motor (movement) development.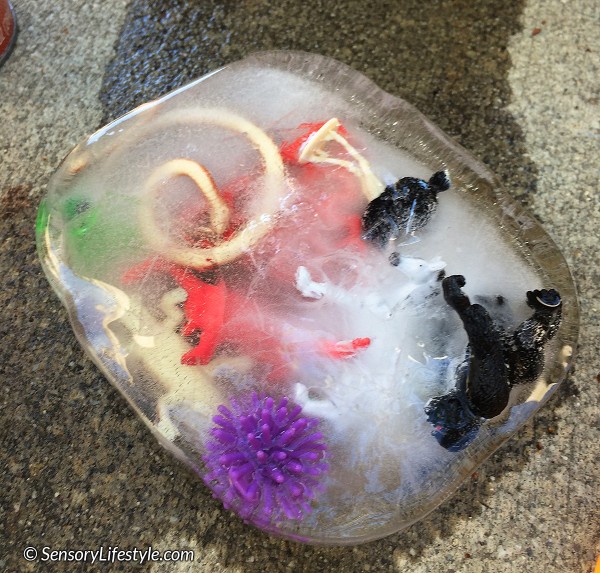 Activities for your 23 month toddler
1. Puff paint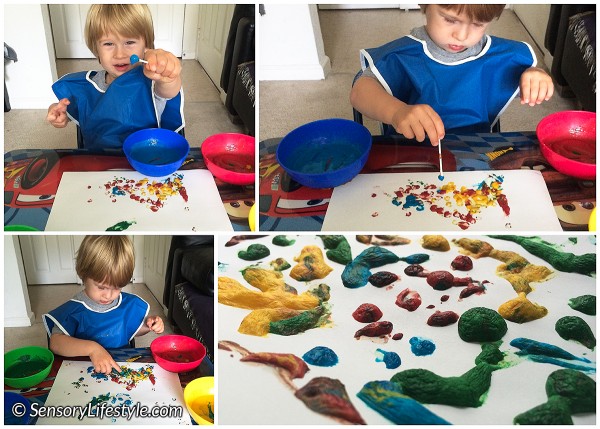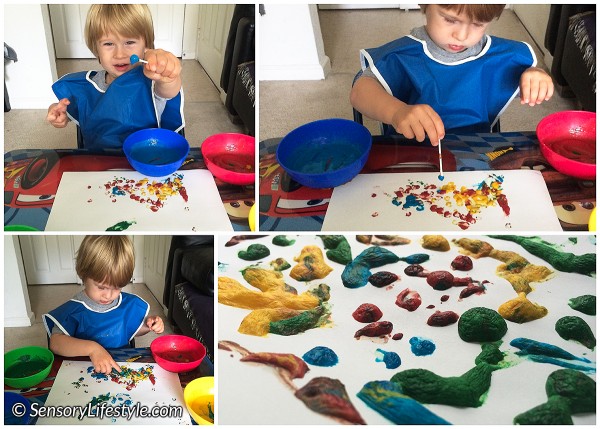 | Skills Developed | Targeted Senses |
| --- | --- |
| Fine motor skills & hand eye coordination | Tactile & visual senses |
How to Play
There are various ways you can create fun and colorful art with puff paint while developing many important skills.
The two strategies that I used include:
Create with your hands
Simply let your toddler explore the paint with their hands. Then encourage them to move the paint from their hands onto the paper to create a colorful artwork. They can use their whole hands or individual fingers to paint with. The ability to separate individual fingers is an important skill that is used in most fine motor tasks such as writing, buttoning or picking up small snacks.
Use an instrument to create art
Your child can create a masterpiece while using paintbrushes, sticks or Q tips. Simply dip the instrument into the paint and then let them create their masterpiece.
Once the artwork is done, put it into the microwave for around 20-30 seconds. The result will include a picture that is raised off the paper.
Puff Paint Recipe
Ingredients:
For each color of paint you will need:
1 tablespoon of self raising flour
1 tablespoon of salt
A few drops of food coloring
Approximately 2-3 tablespoons of water
What to do:
First combine all the dry ingredients
Then add the food coloring
Lastly, add the water to make a smooth paste
COMPLETED WORK: Microwave for approximately 20-30 seconds until the puff paint is dry.
2. Race track adventure
| Skills Developed | Targeted Senses |
| --- | --- |
| Motor planning (ability to conceptualize, plan and carry out an unfamiliar task), balance, strengthening of the core muscles, hand eye coordination & bilateral skills | Tactile, vestibular, proprioceptive & visual senses |
How to Play
You can create a variety of obstacles for the racetrack. The complexity will depend on what you have available around the house. The cars can also vary in sizes.
Here is an example of what we did:
Mark the road on the floor with some tape. This is a great visual cue for your toddler and it will also help keep their attention. You may want to include straight roads or a road that goes around, over or under obstacles.

Examples:

Your road can go around witches hats, go under a table and over a cushion.
The car can also go through tunnels and bridges created from home made materials.
Our race track started inside the house and ended up outside as I wanted to add a messy component. We created a muddy road (shaving cream & sand) at the finish line. Once the track was completed each car had to go in for a car wash (container with water).
This is lots of fun and can be played over and over.
3. Wobble fun
| Skills Developed | Targeted Senses |
| --- | --- |
| Balance, motor control & strengthening, respiration & motor planning | Vestibular, proprioceptive & tactile senses |
How to Play
This activity is all about you having fun with your toddler. You can play any game that you choose. You can play chase, wrestling, tickle monster etc.
The main objective is to do it on an unstable (but safe) surface. This can include a pile of pillows on the floor, a matters or a trampoline.
While playing on an unstable surface your toddler gets to work on their balance and motor control as they try to keep upright and not fall down.
4. Get back on the floor – Advanced crawling fun
| Skills Developed | Targeted Senses |
| --- | --- |
| Strengthening of shoulders, arms, wrists and knees & motor planning | Proprioceptive & tactile senses |
How to Play
Crawling games continue to be very beneficial. As your child is bigger and heavier they place more pressure onto their arms and legs when crawling. This means that it continues to build stronger muscles but also provides more input into their hands. The weight on the hands helps the small muscles to become stronger. And stronger hand muscles make doing fine motor activities easier.
Obstacle courses that include crawling can be lots of fun. A fun way to challenge your toddler can include crawling through a tunnel. However to make it exciting place the tunnel over a variety of pillows to make it uneven when going through.
You can also play chase while crawling on a variety of surfaces or crawl under tables. You can also build forts that your toddler can crawl into.
5. Stringing beads
| Skills Developed | Targeted Senses |
| --- | --- |
| Hand eye coordination, bilateral coordination (ability to use two hands as one hand stabilizes and the second hand manipulates) & finger strength | Visual & tactile senses |
How to Play
Stringing beads requires many skills. If your toddler is new to lacing you can start by using a pipe cleaner instead of a string to lace the beads on. Also ensure that the beads have larger holes.
Once this becomes easier and you notice that your toddler is able to easily manipulate all the materials you may try using a cord or a string.
To get some variety for your toddler you can also show them how to thread a variety of household materials. These can include cut up toilet rolls, rings or even cheerios. Basically anything that has a hole in it will do.
6. Messy drawing
| Skills Developed | Targeted Senses |
| --- | --- |
| Pre-writing skills | Tactile & visual senses |
How to Play
There are many ways to work on pre-writing skills. At this age you can practice with your toddler drawing vertical and horizontal lines and circles. A great strategy to reinforce these concepts is by using their pointer finger and drawing these lines in various tactile media. You can try sand, shaving cream, applesauce, paint, flour, rice or any other messy media.
Developmentally your toddler learns first to imitate a shape before they can copy. Imitation involves you drawing a particular line and your toddler drawing it immediately after you.
Teach your toddler by drawing vertical lines by starting from top to bottom and horizontal lines from left to right. This is mainly because most western countries letters are written in this direction. Try to also match it with the use of directional words. These include up, down, across and round and round. I also love to sing along with the use of the directional words to further reinforce this.
7. Painting with sponges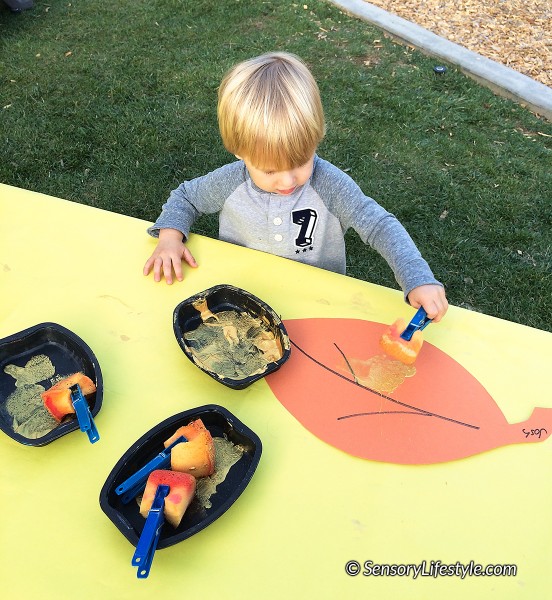 | Skills Developed | Targeted Senses |
| --- | --- |
| Fine motor skills, hand eye coordination & bilateral skills | Visual & tactile senses |
How to Play
There are numerous ways to get your kids painting. This month we will use sponges.
There are two ways that you can create art with a sponge.
A sponge attached to a peg

: This can be great to start off with. It is also great for kids who are more sensitive to textures. Holding on to a dry peg while dipping the sponge into the paint is much more tolerable for those children.

Plain sponge

: If your child doesn't mind getting messy simply let them grab a sponge and dip it into paint.
Then provide them with a canvas. It can be a plain paper or a specific cut out that may relate to their current interest. It can be a leaf, a fish, a dinosaur, a car or a birthday or a holiday card. Anything goes!
8. Messy play: Cloud dough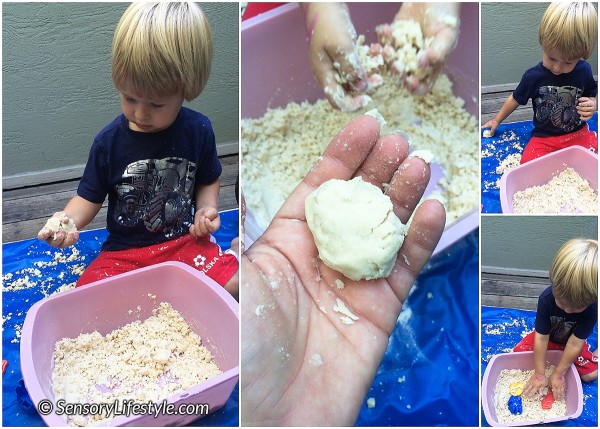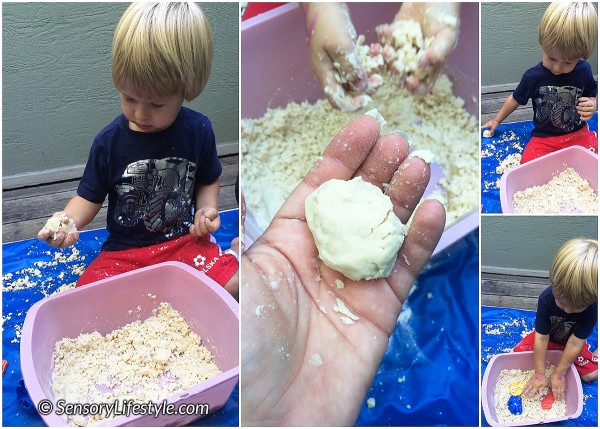 | Skills Developed | Targeted Senses |
| --- | --- |
| Fine motor skills, hand eye coordination & visual perception skills | Tactile sense |
This is such a fun activity. The cloud dough is very similar to the commercial moon sand. It feels silky and it is very moldable. The easy part is that it only includes two materials, baby oil and flour (see recipe below). Below is a general guideline from which you can work. I decided to add a little extra baby oil to make it even more moldable.
How to Play
Once you've made your dough, give your toddler some containers and spoons and let them explore. Cloud dough can provide lots of entertainment while expanding their tactile sense. When using it in therapy I always had to pack up a to go bag full of cloud dough due its popularity.
Cloud Dough Recipe
Ingredients:
1 cup of Baby Oil
8 cups of flour
What to do:
Simply mix the two ingredients together. THAT'S IT!
Store it in a container with a lid
9. Ice rescue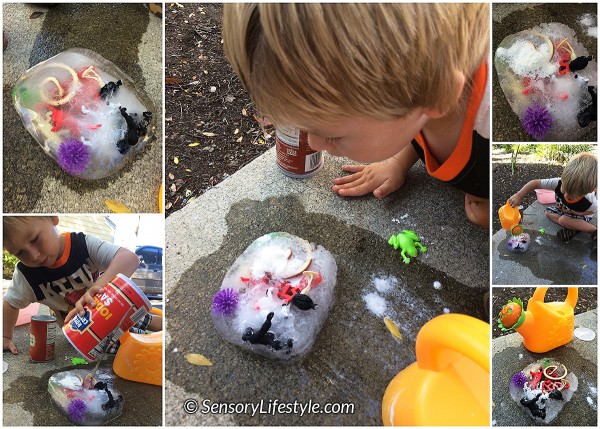 | Skills Developed | Targeted Senses |
| --- | --- |
| Hand skills & hand eye coordination | Visual & tactile senses |
How to Play
Equipment needed: salt, baking powder, small toys that can be frozen, plastic container, water and a freezer.
To ensure that you have the toys spread out throughout the ice block I would recommend freezing them in layers. Put in a couple toys with a small amount of water. Place in freezer. Once frozen, repeat the process until all the toys are frozen and covered in water.
To get started on your rescue mission, take out the ice block. Then start experimenting by pouring different materials onto it and trying to melt it away so the toys have been broken free. You can try to use any materials that you like.
We used warm water, salt and baking powder. The warm water and the salt were great at melting the ice. The baking powder on the other hand didn't do much to the ice but created some cool bubbles that were fun to observe.
10. Pom pom squeeze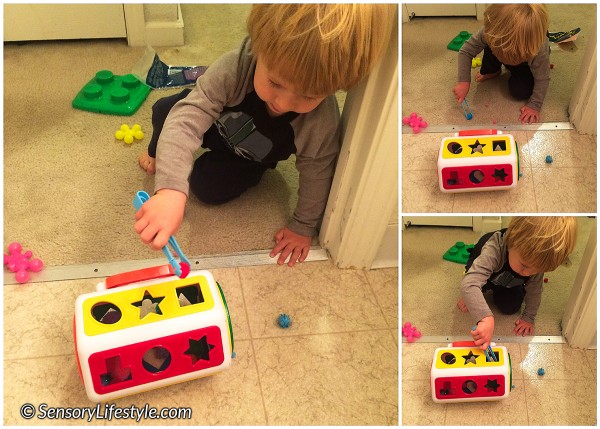 | Skills Developed | Targeted Senses |
| --- | --- |
| Fine motor skills (manipulation & hand separation), hand eye coordination & bilateral skills | Vision, tactile & proprioceptive senses |
How to Play
This activity involves grading up a game of pom poms. A few months back I wrote about playing with the use of tongs to transfer pom poms from one large container to the next.
This month I would encourage you to increase the challenge by getting your toddler to transfer pom poms with the use of tongs to containers with much smaller openings.
By using small openings they are working on increasing their accuracy while manipulating instruments and improving their fine motor skills. Once they get confident in using the pom poms then you can move them to transferring different objects or toys that will fit into the tongs.
Summary
There you have it. My top 10 Sensory Activities for your 23 month old toddler. These are bound to spark up other ideas. Let me know what activities you have tried in the comments section below.
Remember: Each toddler develops at their own pace. If your child is not ready or not interested in this month's activities, just try them again in a few weeks.
~ Urszula
Disclaimer: The activities in this blog are intended for sensory play. They are not a replacement for treatment of children with Sensory Processing Disorder, are not medical advice and should not be used in place of the care of a medical doctor or other qualified healthcare professional. These activities should be facilitated and supervised by an adult. All activities are to be performed at your own risk and in no event shall Sensory Lifestyle be liable for any damages.