Traveling with your Toddler: 20 Activity Tips when flying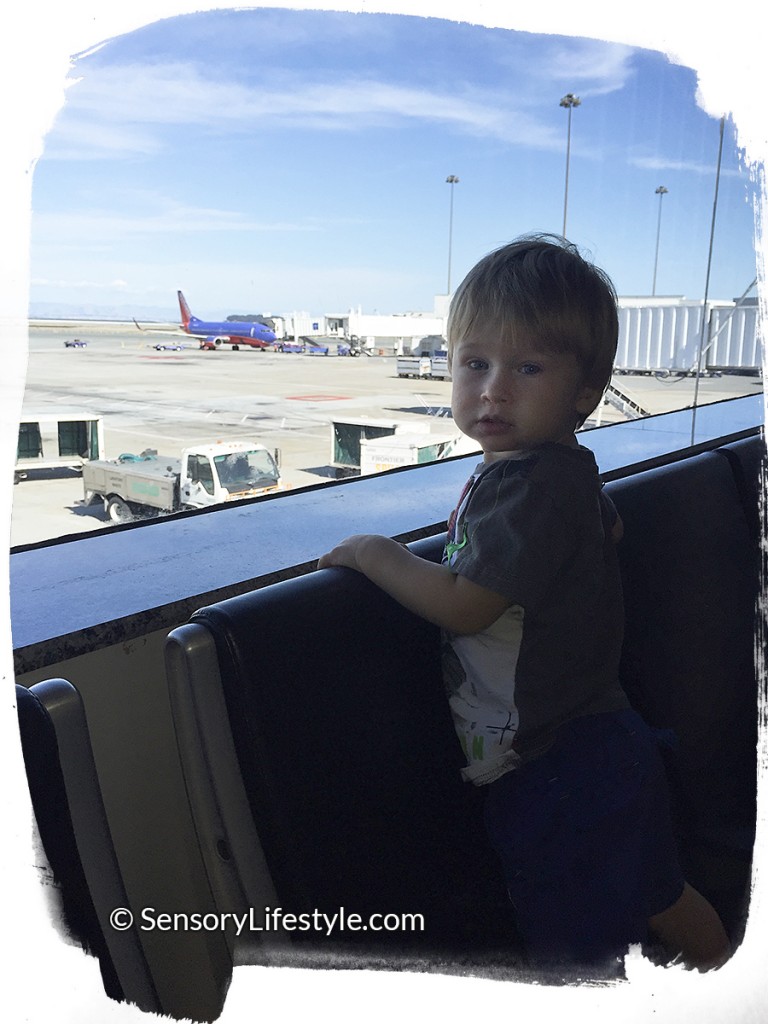 Flying solo can be stressful. All the organization and stress can be overwhelming. Flying with a toddler is much more stressful. You now have an additional headcount to take care of. One that might not reason yet that well and often wants to run in their own direction. Yap, your little bundle of joy. You will find yourself asking "will they sleep?", "will they fuss?", "will others stare when they cry?" … so many unknowns. In this post I will provide you with travel activities for toddler.
So there is some hope. And it starts with getting prepared. I can't guarantee a completely fuss free flight but I can however guarantee you some peace of mind. Here is a list of ideas for toddler activities to keep your bundle of joy entertained while you fly. And hopefully keep your mind at ease from those unknowns.
Travel Tips for your toddler
1. Make your travel toys last
Only provide the toy when your toddler is bored
Get out only one toy at a time
It's fun to have some toys wrapped as gifts. This can provide some excitement and entertainment
2. Use your environment
Let your toddler get to know your neighbors. We frequently had other passengers playing peek a boo with our toddler
Show them things outside the window
Let them fasten and unfasten the seatbelt. They can also play with zippers or buttons on your clothes or carry-on luggage
3. Don't let dropped toys roll away. Pick them up asap

Top 20 Travel Activities for your toddler
1. Barf bag puppets
Let's start with activities that can be created with things on the plane. You've probably seen those barf bags in the front of your seat. Let's pull them out and make a puppet out of them. How fun!
All the play possibilities! You can use it for story telling, or playing peek-a-boo. You can wear them, or your toddler can.
3. Wallet Fun
Equipment: Old wallet and treasures (toy coins, stickers, pipe cleaners etc.).
How to play: Your child can entertain themselves by exploring your wallet. They can go through each pocket. You can even include hidden treasures for them to find.
4. Spice it up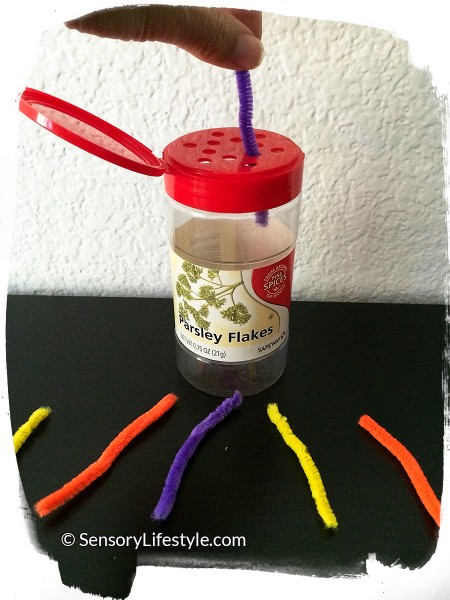 Equipment: Empty spice container, cut up pipe cleaners
How to play: Your toddler will be strengthening their hands while opening and closing the container. This activity can be graded up or down depending on your toddler.
Option 1. Open and close the container while putting the pipe cleaners in and out.
Option 2. Open and close the lid while putting the pipe cleaners through the small holes (see picture above).
5. Shake it up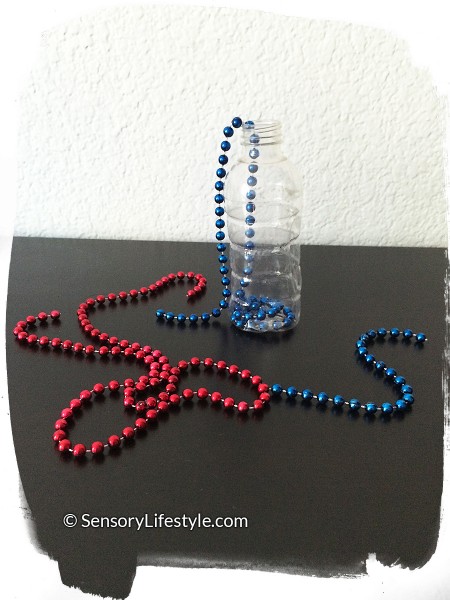 Equipment: Empty water bottle, holiday bead necklaces cut into shorter pieces.
How to play: Open & close container while putting in and taking out the holiday beads.
6. Tape it up
Equipment: Washi tape.
How to play: This is so much fun! It's easy to play and easy to clean up. Grab some washi tape and have fun sticking it around. It can be stuck on your toddler or the surrounding environment. You can stick it on yours or your toddler's nose, finger, ears. You can make it into a puppet or make yourself into a silly monster. Maybe teach them to make shapes with it.
7. Books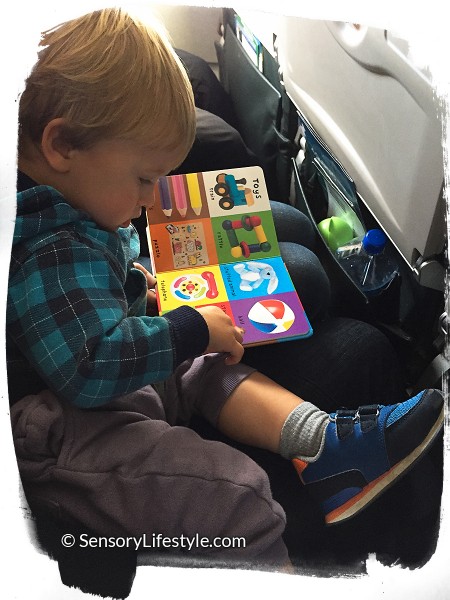 This activity can last for a while. Bring out either your toddler's favorites or surprise them with something new. There are also many books on flying and airplanes. Expand on the books. Talk about the pictures or get your toddler to find things on the pages.
8. Aquadoodle
For those that love to scribble this can be lots of fun! AquaDoodle is a portable drawing toy that makes no mess. You add water to your 'pen' and draw away on the foldable drawing pad.
9. Make a sculpture
Create a sculpture with bathroom supplies, like cotton balls, Q-tips, tissues and tape.
10. Let's get twisting
Equipment: Pipe cleaners
How to play: Let them play by twisting them together into different shapes. They can make snakes, rainbows or bracelets.
11. Scribble fun
Equipment: Coloring pages of your toddlers favorite characters, crayons (triangular crayons are great as they won't roll off the tray)
How to play: Simple. Let your toddler scribble, color and have fun!
12. Edible jewelry
Equipment: Cheerios and dental floss
How to play: Help your toddler string Cheerios on dental floss. They can make a bracelet or a necklace. Once completed your toddler can munch away and eat their necklace or bracelet.
13. Coin Fun!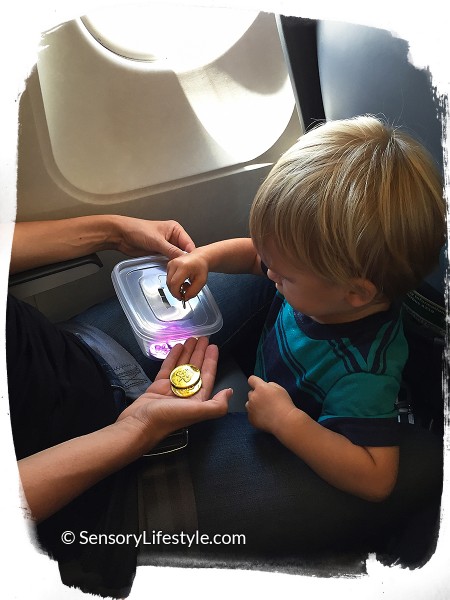 Equipment: Container with a hole, plastic coins
How to play: Cut out a hole in a plastic container. Then get some plastic coins from a dollar store and voila! Your next activity is done. Let you toddler have fun putting coins in and out of the container. Size of the hole and container can vary depending on your child's skill level.
14. Dressing fun!
Equipment: ALEX Learn To Dress Monkey or other toys with buttons and zippers
How to play: Have a fine motor workout and let your toddler have some fun with zippers, velcro, snaps and buttons. All these can be done on Alex Learn to Dress Monkey.
15. Pop!!
Have some fun with a sheet of bubble wrap.
16. Velcro sticks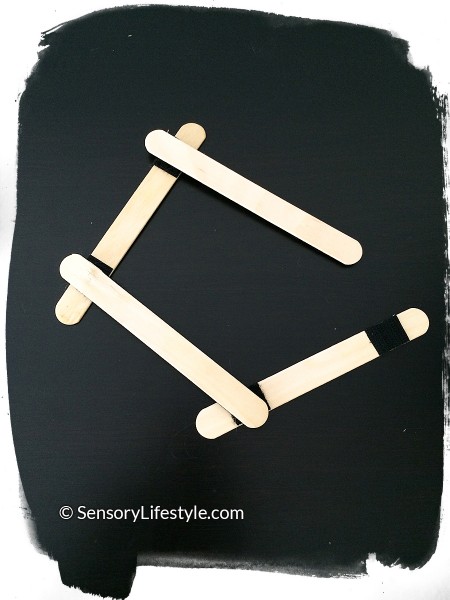 Equipment: Popsicle sticks and velcro
How to play: Stick velcro on each end of each popsicle stick. Then let your toddler have some fun sticking them together, apart and making shapes.
17. Stickers
Lots of kids love stickers. Reusable stickers are best to have on the plane as they can be easily taken off and make no mess.
18. Travel Magna Doodle
Scribble and draw away on the Magna Doodle.
19. Wiki Stix fun
Equipment: Wiki Stix, laminated sheet (optional)
How to play: Twist, stick or make different shapes with the wiki stix.
20. Time to cool off
Equipment: Plastic cup and ice
How to play: Ask your flight attendant for a plastic cup or two and some ice. Let your toddler explore the temperature while holding the ice in their hands. You can also have them pour it from one container to the next.
There you have it. Top 20 plane activities when flying with your toddler. Pick a few and try it out on your next flight.
Do you have any other plane activities that worked with your toddler? Let me know by leaving a comment below.
Happy flying!
~ Urszula
If you want to find out more about my background check out my "About page".